You can manage your subscription from the My Account page. There, you can upgrade your plan, cancel your subscription, or abandon it.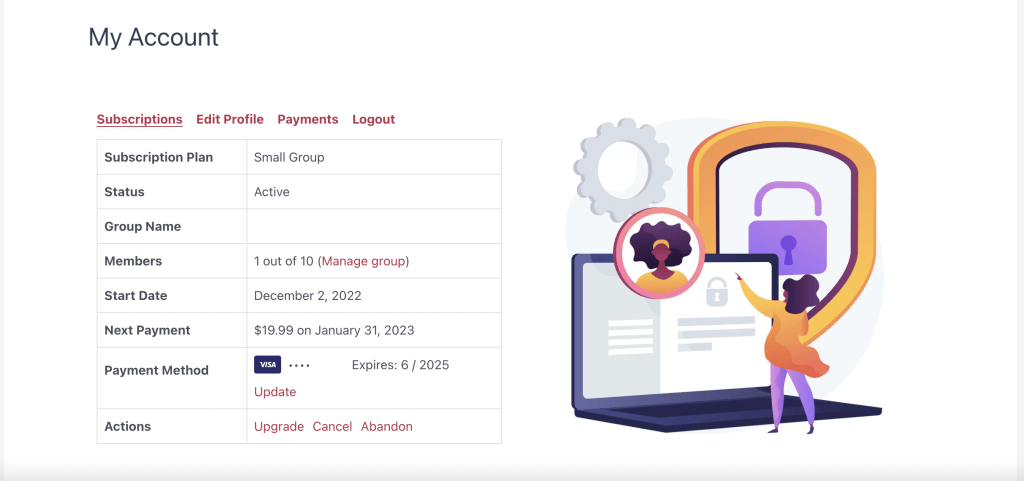 This is also where you can view all the information about your subscription such as:
Current subscription plan
Subscription status
Group name (for group membership plans)
Group members
Subscription start date
Next payment date and amount
Payment method
There's also the Actions row where you can manage your subscription.
Click on the Upgrade link to upgrade your plan. You'll be directed to the upgrade page where you should follow the on-screen instruction for upgrading.
Click on the Cancel button to cancel your subscription so that you won't get billed anymore but keeps your subscription active until the expiry date. When you complete the cancellation process, make sure your subscription status is set to cancelled on the My Account page.
Click on the Abandon link to abandon your subscription. The Abandon action cancels your subscription immediately, stops all recurring payments, and removes you from the list of subscribers.
Note: All BookBildr for Education plans are billed on a monthly basis and are set to renew automatically until you cancel your subscription from the My Account page.